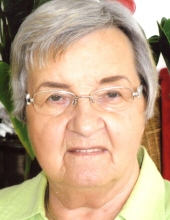 Obituary for Alice B. Morgan
Alice B. Morgan, 86, Crescent City, passed away on October 17, 2017 in Crescent City, California. On September 16, 1931 Alice was born in a two room log house by a mid-wife to Mary Jane and Jefferson Buchanan. This took place in the Moses Creek area of Jackson County, North Carolina.

Earl and Alice were married July 1, 1948 sharing 69 years of happiness and joy. Blessed with son Jeff on their 15th wedding anniversary. The Morgan's moved to Klamath in 1952 and later to Crescent City in 2014. Alice and Earl started their lives together reading the bible and praying together daily. This was a life time joy, she also had her private time with God early every morning. Alice was always active in church serving as Women's Missions president, Sunday School teacher, outreach leader. She was an active member of the First Baptist Church of Crescent City.

When she saw a need in the church and the community she took care of it. Alice and Earl volunteered and ministered at the Crescent City Nursing and Rehab Center. They were senior Pen Pals to school children for many years and rang the bell for the Salvation Army. They were both members of the Redwood Cruiser Car Club, PTA, and RSVP program. She worked at Trees of Mystery for many years where she was taken in as family. Alice was a teacher's assistant for 25 years.

Being raised in a Democrat home, she joined Earl's political party and became a strong Republican serving as Vice President, President and Chaplain of the Del Norte Republican Women. Alice also was a chairman of her district of the Republican Central Committee. She held many open houses for candidates.

Retirement did not slow Alice down, the calendar was always full. She was a doer and a giver. Alice loved having family and friends for dinners. The larger the group the happier she was.

She is survived by her husband Earl Morgan of Crescent City, son Jefferson and wife Sharae, foster son Mike Brown, sister in law Dot Buchanan and many nephews and nieces. She also leaves behind a host of friends.

Alice was preceded in death by her parents, brothers Huey Fremont, Claude Buchanan, sister Barbara, dear Uncle & Aunt John and Lyda Wood who were her second parents.

In lieu of flowers the Morgan family requests contributions be made in Alice's memory to the First Baptist Church, Gym Fund, 1295 G Street, Crescent City, CA 95531.

Family and friends are invited for a pot luck fellowship at the Masonic Temple, 250 9th Street; Crescent City.
Previous Events
Viewing
Wier's Mortuary Chapel
408 G Street
Crescent City, CA 95531
funeral service
First Baptist Church
1295 G Street
Crescent City, CA 95531