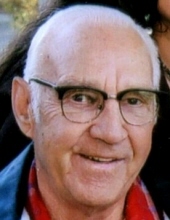 Obituary for Wallace "Wally" Oscar Johnson
Wallace 0. Johnson left his home on earth to joyfully meet his Lord and Savior on
September 16, 2017.

He grew up in Eagle River, Wisconsin where he enjoyed life as a boy living in
the country. He played baseball, football, basketball, hockey and fished and hunted with
his friends. Wally even wrote a book about his childhood.

After graduating from high school Wally enlisted in the army during World War II
and did a 6 month tour in Germany. He wrote a book about that too.

After the war, his mother got him a job at the bank in Eagle River. There he met
his beautiful wife, Milly, and they were married in 1949. Their son, Don, was born a
year later. After 2 years they moved to Eureka, California. Wally got a job at Bank of
America in the Eureka Branch. In 1953 their daughter, Linda, was born. He was
transferred to the Crescent City branch of BofA in 1955 and transferred back to Eureka
in 1958. Finally, in 1964, the morning before the famous Tidal Wave hit Crescent City,
he was transferred back to Crescent City where he remained the rest of his life.

Wally was very involved in the community and when he retired from Bank of
America the mayor of the city proclaimed November 19th, 1980 as "WALLY JOHNSON
DAY in recognition of the good deeds performed by this fine citizen." The bank held an
open house for him and all citizens were encouraged to visit him on that day. Wally
served on the City Planning Commission, County Grand Jury, was instrumental in
establishing the Jaycees and was their first president. In 1971 dad was named "Boss of
the Year". He was active in the Easter Seal Society and as Maitre d' at the annual Silver
Ball. Wally was secretary-treasurer for the Junior Livestock Auction at the county fair and served on the Crab Races and Feed Committee. He was an active member of the First Baptist Church serving as deacon, assistant superintendent, Sunday school teacher and choir member. Wally later became an active member of the Grace Lutheran Church. Most importantly dad was a very loving husband and father. A humble man loved by many.

Wally was preceded in death by his parents, Oscar and Jennie Johnson, brother Marvin Johnson, granddaughter Erin Johnson, and grandson Kyran Miller.

Wally is survived by his wife, Milly Johnson of 68 years, brother Lee Johnson,
son Don Johnson and wife Robin, daughter Linda Miller and husband Mark.
Grandchildren Dan Miller (Terie), Steve Johnson (Kathy), Jonathon Miller (Jessica),
Wendy Johnson and Jennifer Miller. Great grandchildren Madeleine, Niah, Asja, Matteo, Josiah, Sofia, and Kaiden.

A very special thank you from all of us to Addie Meedom House for the tender
and loving care of our very special husband, dad, and grandfather.
Previous Events
Memorial Service
Grace Lutheran Church
188 East Cooper Avenue
Crescent City, CA 95531
Cemetery Details
Location
Del Norte County Veteran's Cemetery
400 Cooper Avenue
Crescent City, CA 95531