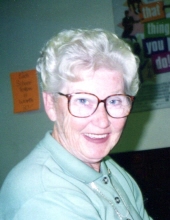 Obituary for Beverly Jean Dantzman
Beverly Jean Dantzman passed away Wednesday September 13, 2017 surrounded by family.
Beverly Jean Stevens was born March 7, 1936 to Clarence Buford Sr. and Olga Anna Stevens, in Makoti, North Dakota, population 276 that year. Beverly was the 6th of 7 children: 5 brothers and 1 sister. Clarence Buford Jr., Chester, Donald, Lavone, Jackie, Bev and George. With their family completed, the family moved several times while in North Dakota as Clarence Sr. was employed as a telegraph operator for the Soo Line Railroad until 1943. The next four years the family would run a dairy farm in Granville, N.D. Beverly would help her father deliver milk bottles to customers before school. She dearly loved working with her father, even when it snowed. In 1947, her father took the family west to Junction City, Oregon, going to work for the Southern Pacific Railroad. Beverly attended local schools, graduating from Junction City High School in 1954. She attended the University of Oregon 1955-56, then moved with her parents to Medford, Oregon, where she worked with her father at the Medford train depot for So Pac Railroad. Bev always said the times she was able to work for her father meant the world to her.

While working for the railroad in early 1957, a girlfriend insisted Bev attend a dance class with her at the Arthur Murray Dance Studio in downtown Medford. That is where she met a dance instructor named Norbert Dantzman. Once they started dancing, they never stopped. Bev's daughter and son's childhood are filled with memories of them dancing together, anywhere they could find the music. Bev and Norbert (Tony) were married June 1, 1957 and moved to Crescent City shortly thereafter. Bev worked for the County Assessor's Office for a time while Tony worked in the woods, logging. Two children later, they bought their first house at 700 Vipond Drive in 1960. Family meant everything to them, and their children feel blessed to have been loved so well by their parents. Bev and Tony were involved in the local motorcycle club, The Redwood Scramblers. Bev also was an avid bowler for 30 years and had numerous "600 club" pins. Tony became a building contractor in 1970 and Bev did all the book-keeping for that until he retired in 2003. When Tony took up golfing, so did Bev. In October 1990 they built a house at 3011 Lesina Road right across from the little golf course. Pretty soon, Bev was golfing more than Tony and loving it! Bev worked for Standard Veneer Co. for a number of years and then went to work for McNamara and Peepe Lumber Supply and then their building supply as their bookkeeper until she retired in 1985. They snowbirded to Ehrenberg, AZ for 14 years, with their 5th wheel in tow. They made new friends and still had the CC friends who travelled the same direction. It was the best time of their lives, they have both said.

Beverly was preceded in death by her parents, brothers Bud, Chet, Don and George, and beloved sister, Lavone. She is survived by her brother, Jack Stevens, loving husband of 60 years, Tony, daughter Cindy Smith (Kendal), son David Dantzman (Johanna), four grandchildren, Kasey Downey, Haley Smith, Parker Dantzman and Natalie Dantzman, and her two great grandchildren Dakoda Bigham and Jess Alan Bigham III.

In lieu of flowers, donations can be sent to 'Del Norte Girl's Golf Team', Del Norte High School, 1301 El Dorado Street, Crescent City, CA where Beverly's youngest granddaughter, Natalie, is keeping her love of golf alive.
Previous Events
Memorial Service
Wier's Mortuary Chapel
408 G Street
Crescent City, CA 95531