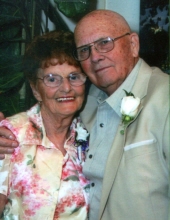 Obituary for Mary Carolyn Hilger
Mary Carolyn Hilger
August 27, 1930 - September 25, 2017

Our mother passed into Everlasting Life with her family by her side on September 25, 2017.
Carolyn was born to David & Inis Gelvin on August 27, 1930 in Wray Colorado. She was 87 yrs. old.
The Gelvin family would move to Rogue River Oregon when Carolyn & siblings were very young. Her family opened a grocery store, where Carolyn would spend a lot of her time helping her mom & dad.
During her grade school days, she would eventually meet up with a boy named Claude Chapman Hilger. It was a love/hate relationship during their rock throwing days but soon there would be a ceasefire in which they would become good friends. Chat graduated from Rogue River High School in 1947 & Carolyn, 1948. On August 31, 1952, Carolyn would marry the man of her dreams & they would make their home in Rogue River, where they would have two sons. In 1962, Chat would get the call to go to work for NorCal in Crescent City, Ca.
Carolyn worked at Bank of America for 20 yrs. Being a bank teller, people came to her as customers but soon turned into friends & remained friends long after she retired.
Our mom was a Lady of The Seasons. She loved springtime, planting her flower & vegetable gardens. When fall arrived, it would be time to pick & can.
She truly loved the holidays. Our family would gather at the house for dinners & finish off with homemade candies. Her fudge & divinity were the best.
One day, dad brought a motorcycle home & mom was hooked. They put thousands of miles on that bike, traveling across the U.S. , meeting new people & creating many wonderful memories.
Mom loved D. N. Athletics. She enjoyed everything from the bands, to the cheerleaders, to the teams themselves. She always shouted encouragement to the players but would yell at the referees for a bad call. She was a true fan..
Carolyn loved God & her Church of Christ Family. She lived her life believing in the Lord and to be a bright light to everyone she met.
Carolyn (Grama) is now back with Chat (Papa) who went to the Lord, nine months ago. They were married 64 yrs.
Staying behind, are sons, Gene and his wife Connie, Phil and his wife Patti, Grandchildren, Heather (Brandon), Tanya (Andrew), Andrea (Chris), Amber and Aaron (Tesia). She also leaves behind her Great Grandchildren, Chase, Naomi, Hannah, Kiara and Daniel. Carolyn was Grama to our entire family and to many others in the community. We will all miss her deeply.
A private service will be held at a later date. In lieu of flowers, please donate to Del Norte Athletics or your favorite charity in Carolyn's name.
Events