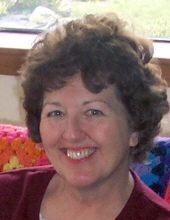 Obituary for Joyce Ruth Bayon
Joyce Ruth Bayon, 73, Crescent City, died in her home as she wished on Friday, November 10, 2017 in Crescent City. She was born September 29, 1944 in Oregon City, Oregon to Hulbert and Ruth Fowle.

Our beloved mother and devoted wife grew up in the San Fernando Valley and attended two years of college before marrying William Bayon, her husband of 53 years. They moved to Redding in 1970 so that Bill could build and sell custom ski boats. She enjoyed gardening, animals, swimming, reading, singing, and raising four children. Starting in 1987, Joyce enjoyed spending at least part of each year in Crescent City where she was an avid beach walker with her Labrador retrievers. She loved collecting agates and felt it a great privilege to look out of the front window of her home to see the ocean. For many years, Joyce's front yard has been a source of wonder to locals and tourists alike from July through September as it is filled with beautiful, brightly colored dahlias.

During her years in Redding, Joyce was actively involved at Grace Baptist church, local Bible study groups, and swim aerobics. She enjoyed selling eggs from her backyard chickens and always had at least one cat and one dog to keep her company.

Joyce's great joy in life was her children and grandchildren. Although she helped Bill with the business banking, she focused all her energies on the home and family. She made sure that each of her children did well in school, learned to play piano, found books from the library to read each week, and had fresh baked treats to eat when they came home from school. Joyce was a generous and loving grandmother who made sure her house had plenty of toys to entertain visiting grandchildren.

In recent years as dementia symptoms developed, Joyce continued to enjoy walking her dog Rusty, listening to Gospel music, giving hugs and smiles to others, and occasionally even yodeling or singing as the mood came upon her. She died at home of complications from congestive heart failure with all of her family around her, including her husband, four children and their spouses and five grandchildren.

Joyce is survived by her husband Bill, children Julie Bayon, Paul Bayon, Luke (Jenny) Bayon all of Crescent City and Matthew (Suzanna) Bayon of Anderson, CA, as well as her brother Norm (Susan) Fowle and five grandchildren.

Joyce was preceded in death by her parents and brother Ken Fowle.
Previous Events
Visitation
Wier's Mortuary Chapel
408 G Street
Crescent City, CA 95531
Funeral Service
First Baptist Church
1295 G Street
Crescent City, CA 95531