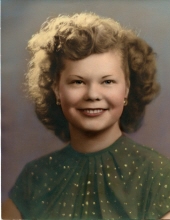 Obituary for Jeanne "Jean" Luyane Evanow
Jeanne Luyane Evanow, nee Thompson, born on August 19, 1931 to Merle and Emma Thompson died on December 9, 2017 at the age of 86. She was born in Crescent City and lived here ever since, except for when she married Richard and was with her husband while he was in the Navy for the seven and half years of his enlistment.

Jeanne attended Crescent Elk Grade School and Del Norte High School. She was a mother of three boys, Kurt, Karl and Kris. Jeanne worked outside the home very little over the many years. She mostly wanted to be a mother and taking care of her family. Taking the boys to swim lessons and providing lots of cookies when their friends were at the house visiting, which was quite often. Jeanne was most happy working in the garden and was very good at growing her many flowers. She kept a very clean home and sometimes having the washing machine going before she had breakfast.

She was a member of the Fisherman's Wives and Point St. George Yacht Club for many years.

She is survived by her husband Richard, sons Kurt, Karl and Kris. Jeanne had three grandchildren Deven, Stormi and Anthony. She also leaves behind many nieces and nephews.

Jeanne was preceded in death by her parents and two older brothers Don and Hugh.

She will be sorely missed by all that knew her.

At her request, there will no funeral services. A celebration of life may be held at a later date.