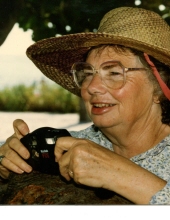 Obituary for Alicia Ross Erickson
Alicia Ross Erickson
December 19, 1925 – December 30, 2017

Alicia Erickson quietly entered her rest after a brief illness on the evening of December 30th. She remained positive and in typical good humor in her last days, and it seemed that in the last months she laughed more than ever.

Born in Watertown Minnesota and growing up in nearby Waconia, her father was Gordon W. Ross, a power plant electrician, farmer and WWI signal corps veteran of Scottish heritage. Her mother, Ellen Hamilton Ross, a spirited girl of Irish descent was a one room school house teacher on the plains of Saskatchewan, Canada when she met and married her father who was farming at the time. A sister, Marion, and brother Gordon soon followed. During the Depression of the 1930's her father worked for the Rural Electrification program, and hard times meant moves through 8 different towns in 11 years. One of those towns was Willmar, Minnesota for a brief time, where she first met Larry Erickson, while in the fifth grade. She said at Willmar was the first time she saw an airplane flying overhead, and both her heart and a love for the sky was captured from then on.

In 1936 they finally settled down in Albert Lea, Minnesota where they stayed through her high school years. This remained her "Home Town" for the rest of her life, returning in later years to resettle her life. She reunited with her young sweetheart of the fifth grade while in high school and they made plans to marry after he returned from duty as a Radarman serving in the Pacific during the war.

After a year at Minneapolis Business College she was ready to marry in 1944, but Larry had a shipboard accident, followed by a host of other problems and abruptly the marriage was called off. Heartbroken, she changed her train ticket to San Diego, California and off she went. She did secretarial work for the US Navy, and then in 1945 at a USO dance she met a young sailor, James Richard (Dick) Quivey, and fell in love again. After he returned from the Pacific at the close of the war, she followed him back to Idaho, and they got married in 1947 in San Diego. They immediately moved to Eugene, Oregon, living on the GI bill and her work, while he was a student at the University of Oregon School of Architecture and she was secretary to the Dean of the Law School. Two children followed during the college years, Joel in 1949, and Patrick in 1954, towards the end of the studies. They moved back to San Diego, with Dick following in 1955 after college was finally finished

Dick began a long career with the City of San Diego Planning Department, and a third child Daniel was born in 1957. After a number of good years, but also some disappointments, they were divorced in 1971, and Alicia entered the work force after years of being a home maker.

She returned to work as the executive secretary for Episcopal Community Services in 1972 and some thirteen years later she worked with Mercy Ships in San Pedro. She decided to revisit the dream she had as child, and began to study for a private pilot's license. Saving her money to rent airplanes and take lessons, she soloed in 1979, and soon was joy riding the local skies, flying to Baja California and the Southwest with friends.

In 1988, she began to search for Larry Erickson. After a year, she finally found him, broken and tired from a tumultuous life, living in a nursing home in Minneapolis. She made trips back to visit him, and then after some serious consideration, decided "I'm going to marry him anyway", and she again returned to her hometown of Albert Lea, and by 1992, She married her first love, Larry. It was hard, as Larry need lots of help and direction, but she nursed him into better health, and they enjoyed the next 10 years together. Moving back to San Diego County for his health, and warmer climes, he passed away in 2002, and once again Alicia was about to move. She spent from 2003 to 2007 in Crescent City, living next door to her son Patrick Quivey, and continued lifelong involvement in the Episcopal Church, as her faith was cornerstone to her.

By 2008 she was ready to head home again, and she packed up the Uhaul truck and headed for Albert Lea. These were good years for her, surrounded with friends in the town she loved and she was free from responsibilities and work, and she remained quite happily there until 2016. She wrote and published a biography of her life with Larry, called "Take Two" in 2012. At age 90 she finally agreed to come back to Crescent City to be with her son Patrick Quivey and his wife Karen. The last two years were like the turning of leaves in Autumn; it was beautiful, and she made the best of being less independent. But always, she wanted to return to flying, even 4 years ago talking her way into sitting copilot in a Ford Tri Motor, a plane as old as herself, flying over the skies of Albert Lea. Her faith was a profound faith, not complicated, and as she put it, was based on a childhood mystical experience of being suddenly showered by the love of God on a cold Minnesota winter's night.

She is survived by three sons, Joel Quivey of Chico, California, his wife Carrol, and grandchildren Elizabeth and David. Patrick Quivey and wife Karen of Crescent City, and sons Brendan Quivey, Everett Quivey and his wife Amanda, and great grandson Jack. Son Daniel Quivey is in Imperial, CA. She is survived also by her loving sister Marion Ross of Los Angeles, nephew, Jim Meskimen and wife Tamra and daughter Taylor as well as niece Ellen Kraemer and her husband Scott Kraemer and children Roxanne and Hap. She was preceded in death by her brother Gordon Ross and her parents.

Funeral Services will be on January 20th, at 2 pm, at St. Paul's Episcopal Church, Crescent City. At noon on January 24th she will be laid to rest at Fairview Cemetery in Willmar, Minnesota next to Larry.
Previous Events
Funeral Service
St. Paul's Episcopal Church
220 East Macken
Crfescent City, CA 95531