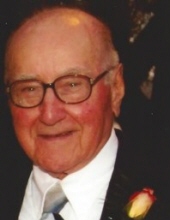 Obituary for Peter "Pete" C. Tomasini
Pete Tomasini passed away on Monday, January 29, 2018 – just 2 days shy of his 101st birthday. Pete lived nearly his entire life in Del Norte County, calling Fort Dick home for most of that time.

He married Leona "Tiney" Tomasini in 1941. He remained lovingly devoted to Tiney through 74 years of marriage until her passing in 2015. He cherished their time together, and his family admired that Pete and Tiney would enjoy each other's company on their nights out for dinner and dancing that continued well into their 90s. Pete provided for his family by buying his own logging truck and hauling logs all over Northern California during a career that lasted 35 years.

When he wasn't on the road hauling logs, Pete often could be found tending to his bountiful vegetable garden, doing yardwork, building (and rebuilding) all kinds of machinery and equipment in his garage, and otherwise puttering around his property in Fort Dick. Pete was also an avid hunter and a voracious reader, particularly on the topic of history. He enjoyed good food with family and friends, often washing down his meals with a glass of Carlo Rossi "Paisano" red wine or a longneck bottle of Miller Genuine Draft.

Pete served his country and his community with honor and bravery – he was on active duty with the United States Army Air Forces during World War II, and for many years he was a volunteer member of the Fort Dick Fire Department.

Pete is survived by his son Richard Tomasini and Richard's wife Diana; his son Donald Tomasini and Donald's companion Mary; his grandson Rodney Tomasini, Jr. and Rodney's wife Angel; his grandson Andrew Tomasini; his granddaughter Sacha Tomasini and Sacha's husband Zachary Finley; his grandson Nicolas Tomasini and Nicolas's companion Annie; his grandson Nathan Tomasini; his grandson Pete Tomasini; his great grandchildren Chasity Vandecar, Travis Vandecar, Scott Vandecar, Jennifer Vandecar, Airidyn Tomasini and Adelia Finley; his great-great grandchildren Camden James, Jorden James, Macee Geib, Logan Geib and Gunner Geib; and numerous nieces and nephews. Pete is predeceased by his wife Tiney and his son Rodney Tomasini.

Following the services, there will be a celebration of life at the Enoteca, 960 3rd Street in Crescent City.
Previous Events
Funeral Mass
Wier's Mortuary Chapel
408 G Street
Crescent City, CA 95531