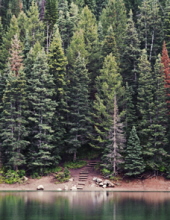 Obituary for Juan Rico Romero
Juan stepped into eternal life with his Lord and Savior Jesus Christ on February 14,2018,after a short battle with pancreatic cancer.

Juan was born in San Agustin, Guanajuato, Mexico in September of 1954.He was raised by his loving parents, Antonio Romero and Maria Rico.He grew up in a large family with 9 brothers and 2 sisters in this small rancho near the Lerma River.

In 1977, he decided to come to the United States to join his brother Miguel,who was already settled in Smith River. After working with the Dahlstrom & Watts Co. as an irrigator, Juan applied for a position at the Rumiano Cheese Company in Crescent City,CA. Little did he know, it would be the last job he would ever apply for.

In 1979, Juan met the love of his life, Darrelen Duckey.They were married in 1980 and together they established a home in Crescent City. The following year, they welcomed their newborn son Juan Jr. Juan Jr. joined older siblings Howard,Charlene, and Darrell Duckey.

Juan's wife Darrelen, began pastoring the All Tribes Foursquare Church in Crescent City in 1983. He worked side by side with her all the years throughout her ministry. Juan lived a
real life example of Christian service and ministry. His love and passion grew for the Lord.
Juan established himself at the cheese factory,even though many viewed him as a foreigner
after immigrating from Mexico. Juan would pave the way at Rumiano's for fellow immigrants,
including his brothers Miguel and Salvador, and his nephews Nacho and Ernesto Romero. Ernesto would also begin a life-long career at the cheese factory. Juan studied the English language, which helped him advance in his career at Rumiano's. He was able to take and pass his Cheesemaker test solely in English.This dedication would later serve him as he became a citizen of the United States in 2002. During Juan's 40 year career, he would earn the title of "Master Cheesemaker." In 2005, Juan contributed to one of Rumiano's best years in cheese competitions.They won numerous awards, including a gold medal in the United States Championship Cheese Contest, something that had always been a goal of the company. Baird Rumiano, owner/operator, would say of Juan, one of Juan's amazing attributes was his ability to learn. As technology in the cheese industry changed,he was willing to work hard to be up to date with all of the developments and to share his knowledge with all of the other employees, welcoming new people and new machinery and new ways to make cheese, including computer skills."

Juan was a devoted husband and an amazing father and grandfather. He was an artist, a carpenter, a chef and a grill master, a caretaker, a teacher, a mentor who was full of wisdom, a gardener, an athlete, an amateur astronomer and a master cheesemaker.Juan could be considered a Renaissance man. Juan loved baseball and movies. He could clean nets and clean fish. He loved to travel and was looking forward to his next trip to Mexico to visit his family.

Juan was preceded in death by his wife Darrelen Romero, parents Antonio and Maria Romero, brothers Juan, Miguel and Salvador Romero, brothers-in-law Ignacio Moreno, Peter G. Schwenk and Donald J.Bernier, and granddaughter Jasmine Romero.

He is survived by his sons Howard Duckey,Darrell Duckey (Shannon) and Juan Romero Jr.
(Emily); daughters Charlene LaBrasca and SandraWarlie; brothers Antonio Romero (Evelia),
Trinidad Romero (Leonor), Jose Romero (Carolina), Guadalupe Romero (Selina), Miguel
Romero, and Salvador Romero (Ana Maria); sisters Alicia Avila (Bernardo) and Carmen
Moreno; brother-in-law Robley Schwenk and sister-in-law Charlotte Bernier.

Juan is also survived by his grandchildren, Dakota Duckey, Tashina Hardy (Kris), Jeremy LaBrasca (Melissa), Leigha Garcia,Jordan LaBrasca (Nicole),Eva Bacoch,Joseph Bacoch (Sasha), Madison Barlow, Kiyah Duckey, Kassidie Duckey, Darrell Duckey Jr., Eliana Romero, Josiah Romero, Elijah Romero, Janessa Romero, Evangelina Romero, Jada Romero,and Ezekiel Romero. Juan is also survived by his great-grandchildren, Natalie Duckey, Aiyana Duckey, Jace Hardy, Isaiah LaBrasca, Ameerah LaBrasca, Shylah LaBrasca, Rudy Garcia Jr., Gabriella Garcia, Matthew LaBrasca, Victoria LaBrasca, Little Eva Lent, Morningstar Lent, Angeline Lent,Weston Mason, Joseph Bacoch, Makala Bacoch, Edward Bacoch and Isaac Bacoch. Juan is also survived by many beloved nieces and nephews.

A memorial service will be held at the Crescent City Cultural Center at 1001 Front Street
at 1 pm on February 23, 2018.A catered reception will immediately follow the service.
Previous Events
Memorial Service
Crescent City Cultural Center
1001 Front Street
Crescent City, CA 95531