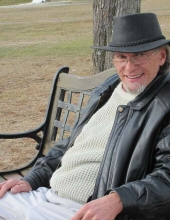 Obituary for John E "Jack" Higginbothan
John E. "Jack" Higginbothan passed away on January 30, 2018 at Sutter Coast Hospital in Crescent City, California. His untimely death was sudden and resulted from an abdominal aortic aneurysm. At the time, Jack was retired and living in Harbor, Oregon where he enjoyed a blissful life with his loving partner Judy Hirst. Together they savored daily beachcombing walks, time spent together in their beautiful garden, selling their hand made treasures at the local farmer's market and visiting with friends.

Born on the Island of Nantucket, Massachusetts on January 16, 1950, Jack was a 13th generation Islander and lived there until he was four years old at which time the family moved to New Bedford. When he was twelve, they moved back home to Nantucket and Jack attended Nantucket High School, where he ran track. Always a hard worker, as a youngster Jack had a paper route and carried bags for visitors at the airport. During his high school years, he worked at the Jared Coffin House in the kitchen.

Jack was a spiritual seeker from an early age and he also had a passion for music. Born with the soul of a poet, it was a magical moment when he received his first guitar in 1965. He began writing 'songs for spirit' spreading his message of peace and love wherever he went. At the age of seventeen, he left Nantucket with his guitar and hitchhiked across the country meeting people, writing and playing music along the way. When he came back to the Island, Jack continued writing songs and playing in local establishments. He spent summers living in a tent in the midst of a blackberry patch on his family's property. Jack enjoyed hanging on Main Street during his spare time, playing his music and meeting people. During the mid-70's, Jack was a member of the Unification Church and worked with the "Moonies" for a time.

Like his father before him, Jack was an avid baker. He worked at the Nantucket Bake Shop with Joe Cecot for many years and for the Downeyflake and Something Natural where he made delicious Portuguese bread. He also worked in many of the restaurants and played music at night for places such as the Brotherhood of Thieves, Gordon Folger and the Sailoft. Later when he lived in Oregon he brought his baking talents to the Outatheway Café in Williams and played his music at the Cocina 7.

During the summer of 1978, Jack met Cindy Anzalone who was visiting the Island with some girlfriends and they fell in love. He followed her back home to Cleveland, Ohio where they were married in 1980 and raised three wonderful children. Jack worked at Lopresti and Sons in Cleveland¬¬¬ for 29 years until the business closed.

Unable to find work, he soon moved to Florida with a buddy. There through a fortunate stroke of serendipity he came into contact with one of his oldest friends who was about to move to Oregon and needed some help. Jack drove to Oregon with his friend Suzan and later when describing his arrival in Williams, he said that he felt that in this community of kindred spirits, he had found his tribe. Here Jack enjoyed one of his most prolific times of song writing. It was a relaxed and supportive atmosphere where creativity flourished and marijuana was legal.

In 2017, as prices in Williams rose and real estate became scarce he and Judy found a home on the coast in Harbor. They moved there in the spring when the gardens were in bloom and the sunshine and beaches welcomed them. Jack was so happy to be living back near the ocean once again and he described his time there with his beloved Judy as living a Zen existence.

Friends and family will miss Jack's wry sense of humor and gentle, soft spoken way. His friends always knew that he'd have a bowl to smoke, a joke to tell or a song to sing. After Jack's death, a friend said "if when you leave someone says 'I want to treat people like he did,' you just might have done something right." Another said "his passing leaves a fragrance of kindness and compassion . . . well done, Jack dear. I thank you." Well done, indeed.

Jack is survived by his life partner Judy Hirst; his son Ryan Higginbothan of Willoughby and daughter and son-in-law Hannah and Albert Pucciani of Cleveland; his former wife Cindy Higginbothan of Willoughby; step father John Becker of Nantucket, MA; sister and brother-in-law Frances Ann and Robert Winters of Douglas, MA; sister Kathryn Becker and brother-in-law Walter Welton of Ashby, MA and many nieces, nephews and cousins. He was predeceased by his father John E. Higginbothan, and step-mother Barbara M. Higginbothan; his mother Frances Ann Becker and his son Daniel J. Higginbothan.

A celebration of Jack's life is being planned for September on Nantucket.

In lieu of flowers, Jack's family asks that donations in his memory be made to: Jack Higginbothan Memorial Scholarship for Aspiring Songwriters, P.O. Box 475, Ashby, MA 01431.
Events
Event Information
Services will be set for a future date to be determined.