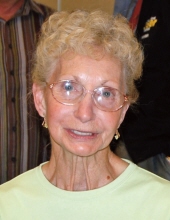 Obituary for Laura Belle (May) Early
Laura Belle (May) Early, was born Sept. 19, 1931 in Walla Walla, Washington and died of complications of a stroke on Feb. 25, 2018.

Laura was the second daughter born to Maurice and Alice (Harp) May. Laura was a long-time resident of Del Norte County, having graduated from Del Norte High School. Laura's family lived in South Dakota, Wyoming, Washington, Oregon and California, moving wherever the need for logging was greatest.

One of Laura's favorite memories was living in Ashland working the gypo-sawmill with her father and sister during World War II. She would tell the story about "these two little girls pulling green chain while the handsome soldiers were there. We were so embarrassed."

After the war, the family moved to Crescent City to build another saw mill. The family settled there, and Laura married her high school sweetheart and had two children, Gary Blane and Gregory Brian.

After traveling with her military husband throughout the West Coast, the couple divorced and Laura moved from San Bernadino, California, returning to her family in Crescent City with her two boys in tow.

Laura went to work at the Pill Box Pharmacy and later Rossini's Coast to Coast Hardware where she worked as a clerk.

After retirement, Laura moved to Brookings to be closer to her son and help care for her granddaughter, Morgan.

Laura's greatest adventure was helping with her son's business, Early Fishing in Alaska. She loved the animals and the mountains of Alaska. She was the ultimate caretaker making sure everyone was well cared for.

Laura was an avid basketball fan, rooting for the Bulls and Lakers. She also loved gardening, cooking, taking care of her grandchildren and watching them in their activities. She enjoyed family get-togethers as well as visiting in her home. Laura always worked hard and was very close to her family.

Most recently Laura resided at Seaview Brightcreek, where the staff took great care of her and let her help take care of "her house." She especially loved all the art activities directed by Terri Peck. She was loved by all who knew her as the "sweetest lady" with a bit of feistiness.

Laura was preceeded in death by her parents, sister Gladys (Babe) and her son Gregory Brian. She is survived by her son Gary (Val) of Brookings, sister Virginia (Dick) Scott of Crescent City and brother Kenneth (Darlene) May of Ashland; grandchildren Morgan of Brookings, David of Salem and Gregory Jr. (Megan) and Shana of Crescent City. She also has several nephews and great-grandchildren.

As per Laura's wishes there will be no services and her ashes will be scattered off the coast of Brookings. In memory of Laura, she would love knowing people planted a flower or adopted an animal on her behalf.
Events
Event Information
No services will be held.