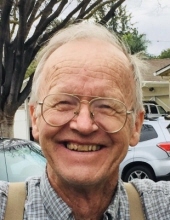 Obituary for Leonard "Bud" William Wilson
Leonard "Bud" Wilson was called home to Christ on Saturday, March 3, 2018 in Crescent City surrounded by family. Bud was born August 6, 1940 in Ashland, Wisconsin to Leonard Wilson Sr. and Effie Wilson. The Wilson family moved to Crescent City in 1945 to engage in commercial fishing. Bud attended Crescent Elk and graduated from Del Norte High in 1958 . On Aug. 11, 1963 he married Judith Peacock, and graduated from Humboldt State with a B.S.in Fisheries Management in 1964. The following year Bud purchased an unfinished boat and named it after his bride, the Judith W. They started growing their family with Andrew, David, Martha, and Miriam. After several years, two more children, Thomas and Elizabeth were added to complete the family.

Bud's faith in Christ was the defining focus of his life that guided everything he did. Bud gained a reputation as a fearless, hard-working yet kind-hearted and humble fisherman. Bud would often be out in the Judith W when other boats would not leave port As a member of the community, he was actively involved in Grace Lutheran Church. He was an avid card and chess player and loved hiking and exploring the Del Norte County backcountry. Woodcutting, berry picking, hunting, fishing and getting stuck filled him with gratitude for God's creation. As a family man, Bud was a dedicated teacher of God's path, instilling values of hard work, gratitude, integrity, patience, resourcefulness, and love. He could often be thought of as a man of few words, but had tremendous impact through his living example.

Bud is preceded in death by his parents Leonard and Effie Wilson and is survived by his brothers and sisters, Margaret Schille of West Bend WI, Myrtle Urban (Bob) of Central Point OR, Lee Wilson (Julie) of Powell WY and Gail Harrison (Alex) of Crescent City. He leaves behind his beloved wife Judy, his six devoted children, five caring sons/daughters-in-law (Sheila, Gayle, John, Susanna, and Scott) and twelve loving grandchildren.

Memorial Contributions may also be given to Grace Lutheran Church in his honor.
Previous Events
Memorial Service
Grace Lutheran Church
188 East Cooper Avenue
Crescent City, CA 95531