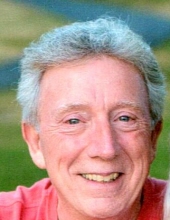 Obituary for Gene Raymond Schach
Gene Schach, a true "Del Norter", passed peacefully in his home late afternoon Friday, March 2nd. with his family present. Since he was only eleven days from his 70th birthday, we conclude that he was 70. Two of his grandchildren called Thursday, March 1st. and sang Happy Birthday to him.

By friends, family and community Gene was referred to as:
• A stellar individual
• The best estate attorney in Del Norte County
• Someone who put the kind in human kindness
• An eternal optimist and many more accolades. His optimism never bit the dust but was definitely challenged that first year of law school.

Gene graduated from Del Norte High School, attended Humboldt State and graduated then managed Crescent Lumber Company for many years before deciding to attend law school. He planned well for all of his goals. Prior to taking the LSAT, he enrolled in classes at CRDN to update and enhance his skills. He was accepted at UC Davis, started there in 1986 and graduated in 1989.

In addition to starting law school, Gene also married Carol at that time. While he could have studied every single free minute, the two decided to make Saturday, their day reserving it for new adventures, fun, and nourishing the relationship.

As an estate attorney, his goal was to ease the angst that estate planning caused so many people. He felt successful when he completed estate plans that his clients understood. He always took time to present a trust or similar document in layman terminology. Gene was gifted at explaining and putting his clients at ease.

Growing up, Gene's family spent happy times camping in Big Flat, and he retained an attachment to that area. After his father died, he found a piece of property on Jones Creek that he purchased. He built a small room, and spent many happy hours working in the garden, listening to the water, watching the wildlife and gathering peace.

He loved hunting for petrified wood at the beach in Bandon, or agates in Yachats.

Gene's last bucket wish was granted by a trip to Point St. George Lighthouse with seven friends and family on Sunday, 2/11. The event was organized by his daughter, Angela, and was definitely a highlight. The article written by Tony Reed appeared on the front page of the Triplicate in their 2-13 issue and made Gene's day. He read it several times.

One night a week was reserved for tennis with the guys followed by beer and pizza therapy.

Gene thoroughly loved and enjoyed his eight grandchildren finding special attributes in each one. I believe he passed his optimism on to them.

Gene is survived by his wife of 31 years, Carol, his sons, Jeff and Kevin, their significant others and grandchildren, Kevin, Tori, Tyler, and Emily. He also is survived by his two step children, Angela and Jave, their spouses and children, Sam, Abby, Jacob and Emily. In addition he is survived by his sister, Judy White, brother, Don Schach and his wife. He also has nieces and nephews.

At Gene's request there will be no public service. He will be missed and remembered fondly. When you think of Gene, remember his optimism.

Anyone wishing to make a contribution please send it to Resolution Care, at 2440 23rd Street, Suite B, Eureka, CA 95501.
Events
Event Information
No services will be held.