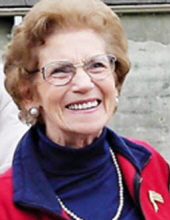 Obituary for Ruby Louise Lillian Barnts
Ruby was born and raised on a dairy farm in Aldrich, Minnesota. As the second of six children, she learned how to work hard and care for others, qualities that would make a significant impact on everyone that knew her. At the age of 19, she and her sister, Verna, accompanied one of their neighbors to Lebanon, Oregon to make a new life for themselves. There, she met and married a celebrated veteran of World War II, Warren Barnts. Three years later, in 1950, they moved to Crescent City to start Del Norte Tire Service.

Ruby was an active member of the United Methodist Church for over 50 years, faithfully attending services, participating in a variety of ministries and social events and blessing her fellow members with her famous pies. She was also very involved in the community, being a part of the Women's Club, the Bowling Club and the 40-Plus Club. She volunteered with the American Red Cross, made collections for the American Cancer Society and made it a point to take meals to those in need. She even found time to bring pies and flowers to the banks and doctors' offices.

Ruby was known for her sharp Irish wit, her strong work ethic, her generous heart and her tireless energy and enthusiasm. To her children, Jim, Bill, Dan, Tom and Tami, she was the glue that held everything together. She was an extraordinary wife and mother, instilling love, decency, integrity and responsibility in her children, always keeping things fun with her positive attitude and unique sense of humor.

Ruby is survived by her husband of 71 years, her five children and their spouses, Jan, Arlene, Patty and Sean, seventeen grandchildren, and 21 great-grandchildren.
Previous Events
Celebration of Life
Elk Valley Rancheria
2332 Howland Hill Road
Crescent CIty, CA 95531