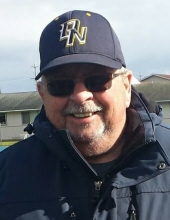 Obituary for Charles "Chuck" Newton Schaad
Charles "Chuck" Schaad age 70 passed away at his home in Smith River, CA on March 26, 2018. He was born on August 21, 1947 in Fairfield, CA to Earl and Lillian Schaad. Chuck was a 69 year resident of Del Norte County.

In his youth Chuck attended schools here in Del Norte County. During his time in school he participated in many sports including Football and Wrestling. At age 12, Chuck began attending Foursquare Youth group and became a member of the Church. It was there he found his faith, trust in and love for God. He continued as a member of the church for the remainder of his life.

After graduating from Del Norte High School in 1965, Chuck moved in with his sister and her family in Westminster, CA. Although he planned to attend college, shortly after moving he answered the Call to serve his Country. In 1967 Chuck enlisted in the US Navy and served on the USS Oriskany during the Vietnam War. He was honorably discharged from the Navy in 1971.

Chuck returned to Crescent City for a short time before moving to Eureka to attend College of the Redwoods. Chuck completed his AA degree at the College and it was there in 1972 that he met the love of his life, Patty Ann Doan. The two spend a year developing a friendship and married on June 23, 1973. They then moved back to Crescent City and began their life together.

In Chuck's life here in Crescent City he wore many hats. He worked as a tallyman and Personal Manager for Miller Rellim until the Mill closed in 1993. He then worked for Hambro forest Products as the Personal Manager until his retirement in 2009. Chuck remained active in the military through his service in the Navy Active reserve, Navy inactive reserve, and National Guard. His time totals more than 35 years in service to our Country.

In addition to serving our Country and working in the Forest Products industry; Chuck volunteered with the Smith River Fire Department, coached sports and lead many youth organizations including Youth Wrestling, Youth Football, 4-H, youth group, etc. He played a major role in the development and growth of countless youth in our community. In his "free time" Chuck raced Stock cars at Redwood Acres Fairgrounds.

With so many achievements in life, nothing could compare to his three sons that he and Patty had together. Aaron Michael, Clinton Charles, and Heath Patrick gave them every joy and pain that came with raising three boys! From Footballs games to wrestling matches, raising hogs and general rough housing there was never a dull moment and Chuck was the happiest father there was.

Chuck and Patty raised three sons who love the Lord, their community and family. The boys each went on to marry and have children of their own. All three continue to live their father's legacy here in Crescent City through their own families and their involvement in youth sports. Their own children (all 10 of them) are raised by amazing fathers who learned from the best!

Chuck is preceded in death by his parents Earl and Lillian Schaad and his brother Michael Earl Schaad. Brother in Law's George Wilson and Don Davis.

He is survived by his wife of 44 years Patty Ann Schaad. Children Aaron and Sarah Schaad, Clinton and Cheyenne Schaad, and Heath and Christy Schaad. Grandchildren Jackson, Riley, Jenny, Adenne, Avary, Channey, Ryker, KaLynn, Lilly, and Colton. Sister Patti Mae Wilson Davis and numerous nieces and nephews.

Burial and Flag presentation will follow at the Del Norte County Veterans' Cemetery. The family would like to invite everyone to attend all services including a fellowship at the church immediately following the burial.
Previous Events
Visitation
Wier's Mortuary Chapel
408 G Street
Crescent City, CA 95531
Funeral Services
Foursquare Gospel Church
144 Butte Street
Crescent City, CA 95531