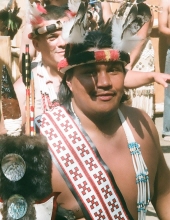 Obituary for Gerald Ieshh Dowd
Gerald Ieshh Dowd 37 years old came into this world March 30, 1981. He lived on the Resighini Rancheria and was known by his friends as G, or big G or -Rez Rider.

Gerald started his journey onto the other side on April 27, 2018 in Humboldt County. His presence will be surely missed by many souls.

Gerald's parents are Rick Dowd Sr, and Tawny Scott, his mother Modesta Lopez.
Gerald had a warm soul with a big loving heart. He had a bright smile that could turn frown upside down. He had a notorious laugh that could get you to laugh along with him. He not only laugh at you, but at himself. He was very upbeat and always beamed positive energy, a good vibe and almost always wore a smile. He was a very calm and peaceful person always trying to see the glass half full. Or didn't see any reason to be mad that if it was half empty. He was very kind, loving and extremely family orientated. He grew up in a tight knit Traditional dance family and always happy to be with his family.

He was always willing to help out in any way that he could. It did not matter what time of day or night. He never expected to be given anything in return. That was just the type of person he was. He loved playing dominos, chess, dice, and cards besides traveling up and down the river.

He was super close to his Father Rick Sr. , and sister KeShan Dowd. Gerald helped raise his nephews loved helping them throughout their lives even babysitting. Gerald took great pride in his culture by gathering tea, seaweed, catching eels, fishing, hunting, dancing, and fasting. He was on the Resighini Rancheria Tribal Council off and on over the years. He also worked in the Grizzly Paw Community Garden coming up with new or more ideas about the garden and carving classes.

Proud Dowd.

Sisters and brothers: KeShan Dowd, Anita Van Osdol, Jamie Proctor, Janie, Rick Dowd Jr., and Rachael, Jessie Dowd, and Milly G. Grandmothers: Roseland Jones, Venola (Nummy) Dowd, Great Uncle: Donald McCovey, Aunt's: Kathy Dowd, Rhonda Dowd, Debra Earls, Susan Gordon, Cecilia Hurd, Carleen Lopez, Shelly Lopez, Natasha Lopez. Uncles: Roddy Dowd, Gary Dowd, Davy Dowd, Danny Lopez, Edward Lopez, Mike Jones, Dean Jones, and Friend: Jamie Taylor. Nephew's: Kitkah Dowd Ka-get Dowd, Kagama Dowd, Range Dowd, Niece's:London, Ashley Dowd, Saddie Hernandez and numerous cousins, family, friends.
He never got to do his immediate plans was to watch his nephew wrestle, go eel on the Eel River, build a greenhouse style that he liked.

He is proceeded in death by Frank B.(Puzzy) Dowd, Edward Lopez Sr., Lena Reed McCovey, Catherin Richards, Brother's Ricky Ka-get Dowd, Tylor Dowd cousin Tara Sawn Gordon, Misty Tamingo Dowd many more family.

A Reception will Immediately follow at the Lena Reed McCovey Community Center 170 SE Klamath Beach Rd Klamath, CA.

Pallbears will be Rick Dowd Jr, Frank Spa-ghe Dowd III, Issac Kinney, John Provolt, WillBear Carlson, Michael Paul Valenzuela, Ka-get Dowd.

Honorary Pallbears are David Maloney, Kitkah Dowd, Kagama Dowd, Arthur Jones, Donald McCovey, Roddy Dowd, Gary Dowd, Davy Dowd, Israel Dowd Sr.,Robert Kinney Jr., Lance Bates, Stanley Scott, Jeff Tomms, Sean O'Neill, Don David Valenzuela, Paul Kuska, Thomas Gordon, Ryan Hurd, Edward Lopez, Phillip Vigil, Guy Dowd, Derick Goodlin, Frank Gist III, Vince Feliz, Sunnyman Downs, Rocky Dowd, Ch-mook Dowd, Pete Thompson, Dewayne Lopez Sr., Al Schoonover, Nathan Scott, Rick (Racer) Sanderson Sr.
Previous Events
Wake
Lena Redd McCovey Community Center
170 SE Klamath Beach Road
Klamath, CA 95548
Funeral Service
Cornerstone Assembly of God Church
1281 Douglas Street
Crescent City, CA 95531
Cemetery Details
Location
I.O.O.F. Memorial Cemetery
400 Cooper Ave.
Crescent City, CA 95531