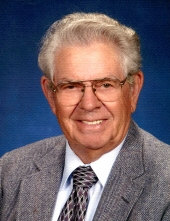 Obituary for Dale - Parsons
Kenneth "Dale" Parsons, passed away on May 2, 2018 in Brookings Oregon after a long illness at the age of 88.

Dale was born on September 9, 1929 at Seaside Hospital in Crescent City California and lived all of his life in Crescent City and Del Norte County. He graduated from Del Norte High School in 1947. After graduation, Dale joined his father in the family trucking business. In 1953, he joined the US Army as a Private 1st Class serving during the Korean Conflict. He was also stationed in Germany for 1 year. He was very proud of his military service and received an honorable discharge from the Army in 1955; and became a lifelong patriot for his country. After returning from military duty he joined Standard Veneer Plywood Company in Crescent City in 1956 and drove trucks for them for many years.

In 1966 Dale and his wife Eleanor purchased a business together and started "Parsons Paints and Floorcovering" in Crescent City. They genuinely enjoyed working together in business. Dale was the consummate salesman and Eleanor was the skilled office manager who expertly kept the stores books and records balanced. They were the perfect team. During their 20 years serving the community their store expanded and eventually they built a larger store on 225 I Street in Crescent City. Dale and Eleanor worked hard to create a customer friendly business that quickly became the preferred store to go to for residents and businesses in Del Norte County California and Curry County Oregon for their painting and floorcovering needs and other related products. The Parsons gave generously of their time, talents and resources to promote the economic welfare and quality of life in the communities they served. Together they upheld the highest standards of honesty, integrity and quality customer service and citizenship in operating their family business. They were strong supporters of the Crescent City Chamber of Commerce and enjoyed participating in business development and in promoting the local economy.

Dale met Eleanor Heldreth in 1949, and both were immediately smitten by each other. They were married on April 9, 1950 in the United Methodist Church in Crescent City. Over the years Dale served in the church as an usher. They recently celebrated 68 years of marriage together and their abiding love for each other lasted a lifetime. During their working years, Dale and Eleanor enjoyed business trips, boating, waterskiing and traveling together to visit friends and family. Dale especially liked bowling, and was named Sportsman of the Year twice in the league. After retiring from their store business, Dale and Eleanor joined with several friends and formed the "Tsunami Sam's" RV group. They enjoyed many years of recreational vehicle travel throughout the country.

In his retirement life, Dale also became an avid golfer and greatly enjoyed playing many rounds of golf with friends at Kings Valley Golf course. Dale recorded 2 holes in one at the Kings Valley course! He also enjoyed woodworking and playing the organ. Dale and Eleanor have also been long standing proud Republicans in the business community. Many times at Crescent City's annual 4th of July Parade Dale would don an Elephant suit to promote the Grand Old Party. He really enjoyed the parade activities, and especially interacting with children.

Dale was a gifted story teller and had a great sense of humor that was never offensive to anyone. Above all Dale possessed a kind and warm personality, a generous heart, and a humble, reverent spirit. Dale was deeply loved by his family and friends.

Dale was preceded in death by his parents Henry and Marian Parsons and his sister Shirley Zais. He is survived by his beloved wife Eleanor, his brothers Wayne Parsons, Gary Parsons and his wife Jean; nephews Richard Zais and his wife Tammy, Gary Halverson and his wife Susan, Hank Halverson and his wife Gena, Joseph Parsons; nieces Kathleen West, Marilyn Brandler and her husband Bruce, Susan Parsons Klein, many great nieces and nephews; and countless close friends throughout Del Norte County.

A reception following the service will be held at the United Methodist Church in Crescent City, CA.

Donations and memorial gifts in Dale's name and memory may be made to the charity of your choice.
Previous Events
Visitation
Wier's Mortuary Chapel
408 G Street
Crescent City, CA 95531
Visitation
Wier's Mortuary Chapel
408 G Street
Crescent City, CA 95531
Funeral Service
Wier's Mortuary Chapel
408 G Street
Crescent City, CA 95531
Cemetery Details
Location
I.O.O.F. Memorial Cemetery
400 Cooper Ave.
Crescent City, CA 95531