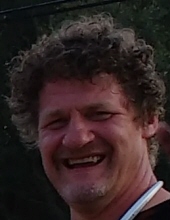 Obituary for Carey Ray Fugate
Carey Ray Fugate, 49, went to be with his Lord and Savior Jesus Christ on April 27, 2018, at the John Muir Medical Center in Concord after his year-and-a-half battle with brain cancer. He was born July 24, 1968, in Crescent City.

Carey attended Pine Grove, Crescent Elk and Del Norte High Schools. He also attended Cornerstone Assembly of God and Foursquare churches in his youth. While in middle school, Carey bought his first two computers and became a self-taught student. While taking computer classes in high school, he began making programs. Carey excelled in sports, earning White Stars in cross country, track, and basketball (his passion). He was a drummer in the school's marching band and in 1985/86 he was listed in "Who's Who in Music." In August 2017, he came home to be inducted into the Del Norte High School Warrior's Hall of Fame for his athletic achievements.

After graduating from Del Norte High School, Carey enlisted in the Air Force where he worked in a top security position as the Head of Systems Operations for the Satellite Data Handling System for USAF Global Weather Central. He earned an Outstanding Unit Award for being a member of the team that outperformed all other computer divisions in the Air Force; a Good Conduct Medal for exemplary behavior on and off duty; and received Letters of Appreciation, Letters of Recommendation, and Nomination for Promotion for his assertive troubleshooting and recovery procedures during many emergency situations. His problem-solving abilities prevented disastrous data losses and saved millions of dollars of hardware and software development. During his enlistment, he served as a representative on the Offutt AFB Special Olympics Board, HQ AFGWC SDHS Configuration Control Sub-Board and the HQ AFGWC Commander's Advisory Council. He also played basketball for the AFGWC Intramural Basketball Team.

After leaving the Air Force, he was employed at Pacific Bell Directory in Pleasanton, with the Security Access Administration for the NT Enterprise Information Systems Department and later with the Disaster Recovery Administration. For the last 17 years, Carey loved being employed at UCSF with the Information Technology Services Department as a Programmer/Analyst, and most recently as one of the Data Center Facilities Coordinators.

Carey's greatest passions were motorcycle riding and computer games. He also liked to build computers to give to people who would not otherwise be able to buy them. Carey loved to tell stories of the many adventures and misadventures he had while growing up in Del Norte County. Through the years, family, friends and coworkers have had the pleasure of enjoying his quick wit and hilarious antics. He was brilliant, yet humble, and he was loved by all who really knew him. For more than 20 years, Carey lived with his roommate and "Best Friend Forever" Bobbie Phillips, who lovingly cared for him during his recent illness. They resided in Walnut Creek, Danville and most recently in Pittsburg, California.

Carey was preceded in death by his grandparents, Harold Miller (Oregon), Earl Fugate, Joe and Cordellia (Fugate) Klinger, and Raymond and June Brown (all of California); and niece, Nicole "Nikki" Fugate (California).

He is survived by his daughter, Taylor Fugate; her mother, Laurie Camarena Fugate; and grandson, Asher Moore (all of Missouri); parents, Dale and Louise Fugate; brothers, Randy Fugate and wife Sonya, and Christopher Fugate (all of California); niece, Maren Fugate (Texas); and nephews, Tylor and Michael Fugate (California). He is also survived by many aunts, uncles, cousins and friends.
Previous Events
Celebration of Life
Foursquare Gospel Church
144 Butte Street
Crescent City, CA 95531